President's Greetings
A Team of Pioneers Leading a Creative Way in the Expertise of Landscape Architecture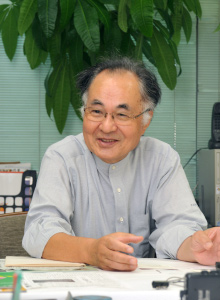 TLA, established on June 11th, 1968, is a team of experts who properly understand relationship between human and nature on its aspect of science and art. We have been challenging to create landscape comprehensively coordinated with nature and to manage them.
Our goal is to create environmental culture itself, which ideally promotes this social movement to improve our environment and culture with help of active involvement of broad range of specialists and local communities and residents. More than 40 years, we have been working on landscape design under this coherent idea. TLA have been training a number of talented professionals in many different area, and we have continuously been accumulating many know-how on our group.
In particular, with a perspective of green environment management, we will continuously work even harder with educational institutions, governments, local residents, and NPOs on various ways to facilitate vitality of local communities, including but not limited to restoration of green environment and its utilization, and development of an effective agricultural system to secure food safety.
Internationally, there are many countries in Asia seeking for our creative ideas and experience for planning and designing. Furthermore, an interest in culture regarding Japanese gardens has been continuously growing in many countries in Europe and United States. We promise will to continuously challenge to new areas in landscape, while educating new professionals to pass our current knowledge and expertise.
President, representative director
Haruto Kobayashi
Personal History
1961: Tokyo University of Agriculture, Department Landscape Architecture
1961: Government worker, Department of engineering works technology
1968: Founder/ President, representative director, Tokyo Landscape Architects,Inc.
Qualifications
Professional Engineer, Civil Engineering (Urban & Regional Planning) #6576
Qualified Park Administrator #060407
Award
1972: Prize of JILA(Japanese Institute of Landscape Architecture), Design Category
1972: Grand Prize of Landscape in Tokyo University of Agriculture
1991: Prize of Park & Open space Association of Japan, Kitamura-Prize
1993: Prize of Parks and open space association, Chief of city bureau Prize
1995: Medal with Yellow Ribbon
1997: Prize of Parks and open space Association of Japan, Sato-Prize, Category of international cultural exchange
2001: Urban Greening service Award
2007: The Order of the Rising Sun, Gold Rays with Rosette
2009: JILA(Japanese Institute of Landscape Architecture), Keiji Uehara-Prize
Social activities
Special Advisor to the Consultants of Landscape Architecture in Japan
Honorary vice-president, The Landscape Institute in UK
Honorary member, Japanese Institute of Landscape Architecture
President, Qualified Park Administrator 
Group Leader, East Japan "Hana-sakasetai"
Literary works
Landscape Design, volume 1 to 3, Riko Tosho, 1994
"Sekkei" – Idea and it's development, Marumo Publishing Co.,Ltd.,1996
Architectural Design Data Corpus, volume 5, a co-author, Maruzen Publishing Co., Ltd.
An outline of Landscape Architecture, volume 3, co-author, Gihodo Shuppan Co., Ltd., 1998
Handbook of Landscape Architecture, co-author, Gihodo Shuppan Co., Ltd., 1978